Title: Paranormalcy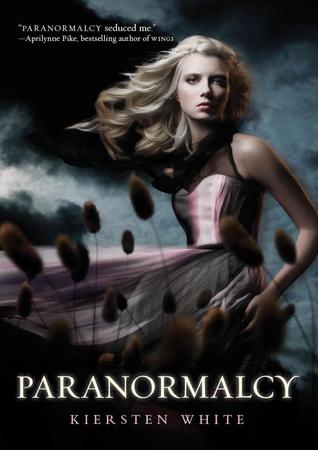 Series: Paranormalcy #1
Author: Kiersten White
Published: August 31, 2010 by HarperTeen
Excerpts: Evie's always thought of herself as a normal teenager, even though she works for the International Paranormal Containment Agency, her ex-boyfriend is a faerie, she's falling for a shape-shifter, and she's the only person who can see through paranormals' glamours.
But Evie's about to realize that she may very well be at the center of a dark faerie prophecy promising destruction to all paranormal creatures.
So much for normal.
Quotes: "Yes, I have a driver's license."
I leaned back against the wall, sighing. "Man, that must be so cool."
"It ranks right up there with lockers. In fact, sometimes I put my license inside my locker, and it's so cool I worry that the whole thing might explode with the sheer coolness of it all."
― Kiersten White, Paranormalcy
"Lish tried to swear–which is always funny, because the computer won't translate it. It went something like this: "Bleep stupid bleep bleep faeries and their bleep bleep bleep obsessions. He had better stop bleep bleep bleep the bleep bleep rules or I will bleep bleep bleep the little bleeeeeeeeeeep."
― Kiersten White, Paranormalcy
My Review: I really didn't get the whole point of this storyline. I felt it was mildly funny but lacked plot. The reason that I listened to this audiobook was because all of the high ratings I've seen from my fellow book lovers.
My Rating: I gave it 2 out of 5 stars on Goodreads.
Would I recommend: No, but only because I didn't understand the point of the story. May have to reread it in ebook format.