Title: Spells
Series: Wings #2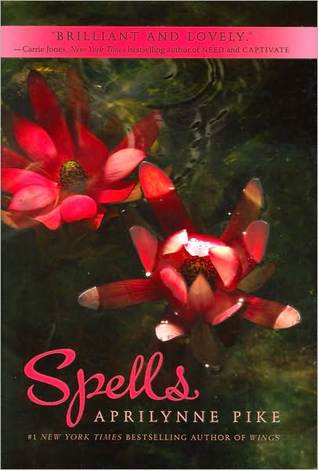 Author: Aprilynne Pike
Published: May 12, 2010 by HarperCollins 
Book Description:  "I can't just storm in and proclaim my intentions. I can't 'steal' you away. I just have to wait and hope that, someday, you'll ask," Tamani said.
"And if I don't?" Laurel said, her voice barely above a whisper.
"Then I guess I'll be waiting forever."
Although Laurel has come to accept her true identity as a faerie, she refuses to turn her back on her human life – and especially her boyfriend, David – to return to the faerie world.
But when she is summoned to Avalon, Laurel's feelings for the charismatic faerie sentry Tamani are undeniable. She is forced to make a choice – a choice that could break her heart.
Quotes: "It's going to be gone soon, isn't it?" he said, more than a tinge of regret in his voice as he studied the large flower.
She nodded, craning her neck to look back at the blue blossom. "It should be gone in another week or two," she said. There was a distinct lack of regret in her voice. "Maybe less, after last night."
Is it really such a bother?"
Sometimes."
David's hands stroked one of the longer petals on the blossom from base to tip, then brought it briefly to his nose and inhaled. "It's just so . . . I don't know . . . sexy."
Really? But it's so . . . plantish."
― Aprilynne Pike, Spells
"Her two worlds, two lives that she tried so hard to keep separate, were crashing together. And she felt helpless to stop it."
― Aprilynne Pike, Spells
Review:  When I was listening/reading this one I was really let down by the progress of the storyline. I felt like the four books as a whole would have made one great book. I think I really enjoyed this because of my love of soap operas and the triangle of Laurel, David, and Tamani was very intriguing.
In the end, I gave it 3 out of 5 stars on Goodreads.  I still would recommend it as it was a fun series and the best one on fairies I've come across.